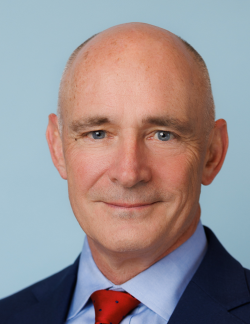 President and Co-Founder of Grant Street Group
Myles Harrington is President and Co-Founder of Grant Street Group, a government technology company with 400 remote employees that supplies software-as-a-service to state and county government agencies that they use to i) bill, collect and distribute taxes, fees, and fines, ii) issue permits and municipal licenses, iii) process driver's license and automobile title and tag transactions, and iv) process online payments. Grant Street also hosts online auctions of municipal bonds, delinquent property taxes, and deeds.
Myles received his undergraduate degree from Georgetown University and his MBA from Carnegie-Mellon University. For the first 15 years of his professional career, he was an Investment Banker at both Wall Street and regional firms. In 1995, he co-founded Grant Street Group.
From the start, the co-founders were inspired and guided by Catholic Social Teaching, the Personalism of St. John Paul II and St. Josemaria Escriva's teachings on the sanctification of ordinary work. These ideals have informed the company culture and resulted in a company-wide spirit of service to colleagues and clients that has generated organic revenue growth averaging 25% over the past 25 years.