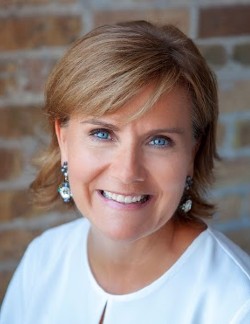 Distinguished Fellow
Peggy O'Flaherty is an accomplished entrepreneur, author and community-centric business leader with over 30 years of experience managing and growing female-founded and mission-driven businesses and organizations. Her work has been featured in Forbes, Start-up Hustle, Chicago Inno, Business Insider, Women's Wear Daily, Modern Retail, and more.
In her current venture as the Co-Founder and Chief Community Officer of Mavely, Peggy has merged her experience in Consumer Engagement, Fundraising, Sales, and Account Management with data-driven and growth-oriented functional solutions. Peggy Co-Founded the Mavely platform to help brands lower their customer acquisition costs and increase their customer lifetime value by leveraging communal commerce and proprietary technology that converts everyday consumers into a virtual salesforce for brands. Mavely's products include: Brand Sales Teams, a B2B offering that helps brands turn their most loyal customers into dedicated sales teams via exclusive invites; and the Mavely Sales Team, a network of 25K consumers-turned-sellers who represent some of the world's top direct to consumer brands. Early adopters of Mavely report having a consistent 3x increase in lifetime value, as well as a 25% decrease in overall customer acquisition costs since joining the program.
Peggy has found success in start-ups that pivot quickly, stay lean, and remain true to their northstar by building upon their KPI to exceed the expectations of both their customers and their complementary teams. Peggy is known by her professional colleagues as someone who inspires them to stay rooted in their strengths and purpose in order to achieve value-driven success. To date, Peggy has built a community of over 30,000 influential men and women who have earned partnerships with over 300 e-commerce brands with an average of 20% conversion.
Peggy began her entrepreneurial career in 2011 as the Founder of Creating Space, a consulting and coaching business supporting women in life and business. While running Creating Space, Peggy expanded her achievements in community development when she co-founded the OneParish app, which was a communication and donation tool, responsible for helping churches recover funds currently being lost for those not attending on a regular basis. The technology platform and APP were developed for churches with over 200,000 users and 200 active parishes; her strength in sales and social commerce drove the platform to a successful acquisition in 2017. It was through this acquisition that Peggy realized her strengths in modernized a salesforce into selling technology solutions.
In 2017, Peggy Co-Authored the e-book, 'Living In Your Calling vs. Chasing Your Crave' —a reflection and guide dedicated to high-performing women who are seeking to find the balance between their personal ambitions, families, and spirituality. Through detailed exercises, Peggy helps readers discover the joy and harmony that often seems unattainable in running a successful business while raising a family. Peggy often reminds other women to "learn the difference between when you make decisions from your head and when you need to use your heart."
Peggy is an Illinois native and lives in Downers Grove, IL. She holds a B.A. in Government and Business from DePaul University. She is the proud mother of five children.