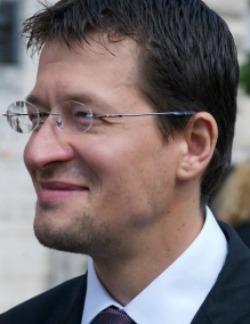 Distinguished Fellow
Ondrej Socuvka is Founder and Chairman of non-profit organization Central European Business and Social Initiative, dedicated to promoting ideas of free market economy, personal freedom and ethical entrepreneurship
He is co-founder of Slovak Alliance for Internet Economy.
Previously, Ondrej worked as Economic Advisor to the US Ambassador in Slovakia, following his previous appointment as Economic Advisor to the Prime Minister of the Slovak republic.
In 2016, Ondrej completed his PhD studies with thesis on Marketing Communication and Advertising, as well as Catholic Social Doctrine online course with the Catholic University of America. Ondrej graduated his Masters studies at the Faculty of Business Administration with the University of Economics in Bratislava, where he specialized in Corporate Finance. He completed exchange programs with the University of Sacro Cuore in Italy (specializing in International Marketing), Georgetown University in Washington DC (specializing in International Affairs) and Erasmus University in Rotterdam (Certificate in European Law and Economics).
He is a co-founder of analytical and news web-based portal Postoy.sk and is member of Slovak chapter of the Fund for American Studies. Ondrej speaks regularly on the topics of Internet Economy, Economic Reforms, Politics and Economics in the CEE at various international conferences in Slovakia, Czech Republic, Poland, Italy, Austria, Belgium and the US. He is married happily and together with his wife Stanislava have two lovely daughters – Tamara and Daniela.