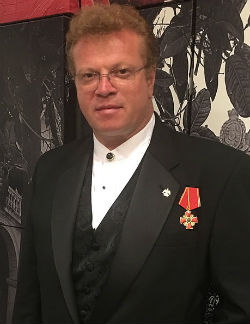 Distinguished Fellow
Igor Babailov, Hon. RAA, is a world-renowned portraitist. His commissioned portraits include three popes for the Vatican, three presidents, two prime ministers, Fortune 500 CEOs, celebrities, members of the nobility, and the British Royal Family.

A child prodigy, Babailov began his formal classical art education at the age of nine, studying the sciences of traditional painting and drawing with the leading master draftsmen and professors such as world-renowned art historian M. Alpatov. In the span of sixteen years (1974-1990), Babailov attained the highest level of fine art education and received his Master of Fine Arts degree under the Russian Academy of Arts -- the same institution which gave the world such masters of portraiture as Repin, Serov, and the great American artist, James Abbott McNeill Whistler. Babailov's fine art education especially contributed to his unparalleled skill in academic drawing (or drawing from life), which today is a fundamental challenge for many.

Pope Benedict XVI selected Igor Babailov's portrait to represent his papacy at the Vatican Splendors International Museum Tour, and Babailov's portrait of George Washington hangs in Mount Vernon Museum.

Recipient of numerous national and international awards and honors, he is an advocate for the timeless value of drawing skills in education.

Babailov's lecture presentations "Greatest Portrait Moments" with live drawing demonstrations, as well as his lectures on innovation and creativity and how to unleash the DaVinci genius within us, excite and inspire students, business leaders and audiences in every field around the world. His website is www.Babailov.com.