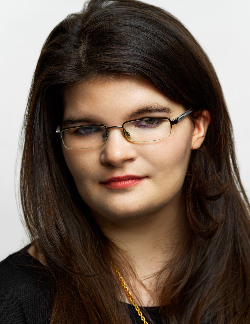 Distinguished Fellow
Elena Nuñez Murdock is the owner of an award-winning public relations agency, angel investor, board member at a battery technology company (ZeroNox), and an executive producer.
Elena has a unique combination of experience in key strategic leadership roles identifying and resolving complex issues (strategy, operations, logistics) facing firms in green tech, manufacturing, logistics, media, ag tech, and consumer products industries.
Elena is the founder and Chief Executive Officer at Ascend NP Communications, a boutique public relations and family office advisory firm serving private equity, venture capital, family offices, and their portfolio companies.
Her clients have been featured in top-tier outlets, including The Wall Street Journal, Nasdaq Trade Talks, Fortune Magazine, The Harvard Business Review, FOX Business, The Atlantic, Grit Daily, The New York Times, CNBC Money, Bloomberg, Forbes, Inc, TIME, ABC, NBC, and dozens of iTunes Top Rated 1-100 ranked podcasts.
Elena Murdock was raised in Silicon Valley, lived on Sand Hill Road in Menlo Park and grew up going to classes with her parents at the Stanford Graduate School of Business. Startups, Venture Capital, and Private Equity are in her DNA.
Elena works with family offices to network on their behalf and has worked with several single and multi-family offices to land their executives in the media. She has a strong track record with family offices that have a difficult time integrating younger generations in the family office management and businesses. Her strategies have seen overwhelming success in involving younger generations in the family office.
She has rebranded multiple accelerators and incubators, transforming them into change-making Venture Capital Firms investing in transportation, LATAM, tech you can touch, manufacturing, food + AG tech, medical, luxury retail, blockchain, green tech, energy, fintech, and education.
She coined the term "tech you can touch" for Venture Capital firms working with startups in "hard tech," a term now used in the vernacular by seed-stage VCs specializing in manufacturing and supply chain on the West Coast.
Elena has closed over $140 million in funding from her investor networks for her clients in venture capital and private equity funds to early-to-mid-stage companies.
Elena is also an advisory board member at the Catholic Community Foundation of Los Angeles since 2019. The Catholic Community Foundation of Los Angeles is the fastest-growing community foundation in the country.
In 2022, Elena was an investor and executive producer on a scripted podcast series, "Hoax, The Sherri Papini Story," which went on to be acquitted by NBC Universal for Oxygen, its True Crime network.
She holds a BA from Franciscan University of Steubenville and studied Organizational Design at the Stanford Graduate School of Business.