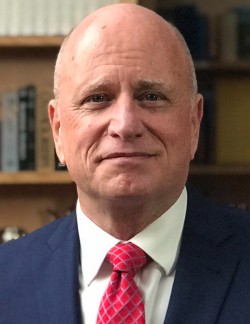 Distinguished Fellow
A seasoned entrepreneur and restaurant executive, RJ Dourney has successfully developed multiple restaurant concepts throughout the US, Europe, Central America and Asia. The founding partner of Fortis Advisors, Dourney has established one of the restaurant industry's leading strategic advisory groups. Fortis specializes in mergers and acquisitions, strategy, growth and financing, assisting both investors and management execute growth, acquisition and turn around strategies. Dourney and his team at Fortis have successfully developed over two thousand restaurants throughout the world and often participates in M&A's as an investor.
Mr. Dourney is one of the founding partners of Integrity Community Partners, a national chain of Catholic Senior Living Communities focused on providing faith based senior living for all Americans. 
A veteran restaurant industry CEO, Mr. Dourney has served as chief executive of both public and privately held restaurant companies including The Upper Crust Pizzeria and Cosi. RJ is also the founder of Hearthstone Associates, one of the largest privately held restaurant companies in New England. Prior to
founding Hearthstone Associates, Mr. Dourney held a number of key executive positions including COO of Au Bon Pain, a $350mm fast casual company and Vice President of North America for Applebee's Restaurants, a $3.5 billion publicly traded restaurant company. Mr. Dourney started his career with Chili's
joining the then start-up company at 16 locations and is recognized as one of the key leaders credited with successfully developing Chili's to 890 units domestically. He has extensive operations, real estate, strategic planning and development experience. 
Mr. Dourney has served on the board of directors of public and private companies including Zullee Mediterranean Grill, Cosi, Big Boy Restaurants, Boloco, Jeepers, YiDaLand and The Upper Crust Pizzeria.
A devout Catholic, Mr. Dourney has long committed much of his time to the Catholic Church now serving
the Church in The Brotherhood of Hope on the Hope Expansion Council, the Diocese of Burlington in various ministries and is studying to be a Permanent Deacon. By the Grace of God, he will be ordained on October 8th, 2022. He also works with non-profits including EforAll, a national entrepreneurial mentoring
organization helping inner-city entrepreneurs.
RJ attended Villanova University where he studied business and economics and is a frequent radio talk show guest and a university-level guest lecturer on subjects including entrepreneurial leadership, ethics in
business and bringing Catholic values to the boardroom. RJ and his wife Nancy are blessed with three adult daughters and live in Chester, Vermont.