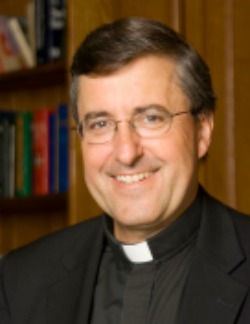 Distinguished Fellow
Fr. Bill Brown, OMV is a member of the Oblates of the Virgin Mary and presently serves as the Executive Director for Mission and Apostolate. The Oblates are a Catholic religious community that serve in the United States, Canada, Europe, South America, Africa and the Philippines. The United States Province is present in California, Illinois, Colorado and Massachusetts and sponsors and supports its foreign mission in The Philippines.
Fr. Bill was ordained in 1994 and after ordination served four years as associate pastor at St. Mary's Church in Alton, Illinois. He then served as Vocation Director for the community for two years until he was appointed Rector of the Seminary for the Oblates in 1999. In 2001, he was elected Provincial for the United States Province and served in this leadership role and ministry for eight years. During his tenure, he helped to lead, guide and implement the visioning and strategic planning process for the US Province. He also served as the retreat and spiritual director for the young adults at St. Clement Eucharistic Shrine in Boston, MA. He has been actively involved in the ministry of spiritual direction since his ordination. From 2011-2014, he served as the director of St. Joseph Retreat House located in Milton, Massachusetts. During his three years of service, he directed retreats, provided spiritual direction, gave parish missions and helped to develop and grow the mission and ministry of the retreat house. Presently, he serves as the Executive Director for Mission & Apostolate for the Oblates of the Virgin Mary, which includes raising awareness and fostering support for the ministries of the Oblate community. In addition, he is leading the strategic planning and implementation process of the Capital Campaign for the United States Province which will help to sustain current apostolates and expand future missions and ministries. At the same time, he leads Serving Leadership workshops in the Archdiocese of Boston for parish staffs, pastoral associates and Catholic schools and for the Oblates of the Virgin Mary.
He has a BSC in Accounting from the University of Santa Clara in Santa Clara, California. After graduation in 1982, he worked four years as a Certified Public Accountant prior to entering the seminary in 1986. In 1994, he received his Masters of Divinity from St. John's Seminary in Brighton, Massachusetts and in 2006 his Masters of Arts Degree from Boston College in Pastoral Counseling.