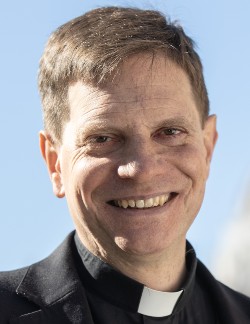 Department
Strategy, Management, and Operations
School
Busch School of Business
Expertise
Natural Law
Virtue
Human Flourishing
Thomistic Action Theory
Sexual Ethics and Gender
Narrative Ethics
Fr. Robert Gahl, PhD is Associate Professor in the Busch School of Business at Catholic University of America, where he has relaunched Church Management Programs including the Master in Ecclesiastical Administration and Management (MEAM). He is also Associate Professor of Ethics in the School of Philosophy of the Pontifical University of the Holy Cross (Santa Croce) in Rome where he was Director of the Program of Church Management (2017-2022).
A native of Milwaukee Wisconsin, he completed his bachelor's degree in chemical engineering at Washington University in St. Louis and worked in Silicon Valley with robotic software for electron beam lithography systems (1985-1987). After completing his Licentiate in philosophy at the University of Navarre (Pamplona, Spain, 1989) and his Doctorate in Rome at the Pontifical University of the Holy Cross (1991), he did postdoctoral research at the University of Notre Dame (1993) and was ordained to the diaconate by Blessed Alvaro del Portillo and to the priesthood by St. John Paul II (1992).
Fr. Gahl has published on the narrative structure of the moral life, cognitive behavioral therapy, corporate social behavior, and the social doctrine of Pope Benedict XVI and Pope Francis. In 2018-2019, as Visiting Faculty Research Affiliate at Harvard's Human Flourishing Program, he taught courses at Harvard and MIT. He has directed courses on institutional mission at leading health care and medical research centers and on virtuous leadership for Italy's center for advanced defense studies (IASD). His current research focuses on intergenerational human flourishing.
He recently published "The Challenge of Self-Mastery in the Future of Work" for the Business and Professional Ethics Journal (2022) and has offered analysis regarding issues of ethics and Church affairs for numerous media outlets including The New York Times, The Los Angeles Times, The Washington Post, CNN, CBS, BBC, the Associated Press, and Vatican Radio. In addition to Italy and the USA, he has lectured in the Vatican, UK, Spain, Kenya, Ireland, Malta, Czech Republic, Slovenia and Poland.