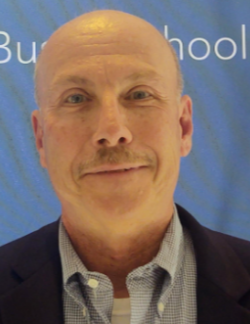 Academic Area
Strategy, Management, and Operations
School
Busch School of Business
Jay O'Hare held management positions with Gannett and Park Communications newspaper groups in upstate New York before beginning a 25-year career at The Washington Post in their Circulation and Marketing departments in management and operations positions.
He has worked in newspaper marketing branding campaigns including new product launches, distribution and operations, and sales efforts including six Presidential inaugurals, the Unabomber manifesto publication, and the Millennial Edition as Circulation Sales Development Manager. O'Hare also managed Circulation Administration at The Post and was responsible for their independent distributor contract administration, newspaper carrier and distributor health and welfare programs, special events, manager and independent distributor incentive programs, as well as the operating, capital, and manpower budgets for the circulation department. He is a past president of the Inter-State Circulation Managers Association and was also a Circulation Federation Council board member with the former Newspaper Association of America.
O'Hare has taught college level communications courses since 2019 and has taught Business Communications in the Busch School of Business since August 2022. He also taught in the Archdiocese of Washington Catholic Schools for six years after retiring from The Post, teaching Physical Education for Pre-K through eighth grade and substituting at every grade level and subject. A high school and college baseball umpire for more than 40 years, O'Hare has been selected to officiate eleven Maryland Public Secondary Schools Athletic Association championship games. He earned a 2019 Major League Baseball World Series Championship ring for his work in Field Operations with the Washington Nationals. He is also a third-degree member of the Knights of Columbus.
He lives in suburban Maryland with his wife of more than 43 years, Ann, who is a teacher and elementary school librarian in the Archdiocese of Washington Catholic Schools. They have three adult children and five grandchildren.